List of Candidates shortlisted from AFCAT 1/ 2017 held on 26 Feb 17 for the next phase of testing at Air Force Selection Boards (AFSBs) is annexed. Based on the induction requirements of the IAF, performance of candidates in AFCAT as well as statistics of reporting and success rates at AFSBs, the cut off marks for AFCAT 1/ 2017 is 150/ 300 for AFCAT and 60/ 150 for EKT. Only those candidates who have cleared both AFCAT and EKT will be considered for Technical Branch. All candidates may login to their account to view their individual AFCAT/ EKT Marks.
Candidates whose AFCAT Numbers figure in the list are required to login to their account and select the venue and date for further testing at one of the Air Force Selection Boards (AFSBs). The last date for selection of AFSB venue and date is 17 Apr 17.
Candidates are required to print the Call up Letter and associated forms from the website and report to their selected venue along with AFCAT Admit Card, Call Up letter, documents as listed in the Call Up letter & associated forms duly filled. Candidates are advised to take a print out of call up letter and associated forms immediately after selecting date and venue of AFSB.
Shortlisted candidates who fail to select their AFSB schedules by 17 Apr 17 would be allotted their AFSB batches by the IAF by 21 Apr 17.
NOTE
1. All candidates are required to carefully read and follow the General Instructions available on www.careerairforce.nic.in before reporting to AFSB.
2. Candidates who have applied only for Flying Branch are to select 1 AFSB (Dehradun), 2 AFSB (Mysore) or 4 AFSB (Varanasi) as their AFSB centre.
3. Airmen candidates who have appeared for SSB for less than six times should only select 5 AFSB (Kancharapara) as SSB venue. No batches are planned at 5 AFSB after 03 JUN 2017. Contact JDPO-3(A/B) Air HQ (VB) for clarification.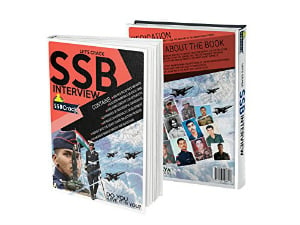 To crack SSB and AFSB Interview get "Let's Crack SSB Interview" Book from Amazon. Trusted by thousands of defence aspirants
Also Download Helpful eBooks: