Current Affairs October 2018 questions and notes PDF For CDS 2 2018, CDS 1 2019, NDA 1 2019, NDA 2 2019, AFCAT 1 2019, AFCAT 2 2019 and SSB Interview 2018 – 2019. Download the current affairs questions with answers and current affairs ebook for October 2018 with around 1300 questions and detailed answers. Download the best current affairs books from ssbcrack shop. Current Affairs ebook PDF covering all the latest current affairs in October 2018 happened around India and the World. The Capsule includes Awards & Recognitions, Science & Technology, Sports related updates, Indian and International Affairs, and Environment related news. Current Affairs PDF will definitely help those who are preparing for competitive exams like NDA, CDS, AFCAT, TA, UPSC, SSC, Railways, Postal, State level exams and all kinds of Bank exams (IBPS, SBI, RRB, RBI, Defence & Intelligence). Download Current Affairs October 2018 eBook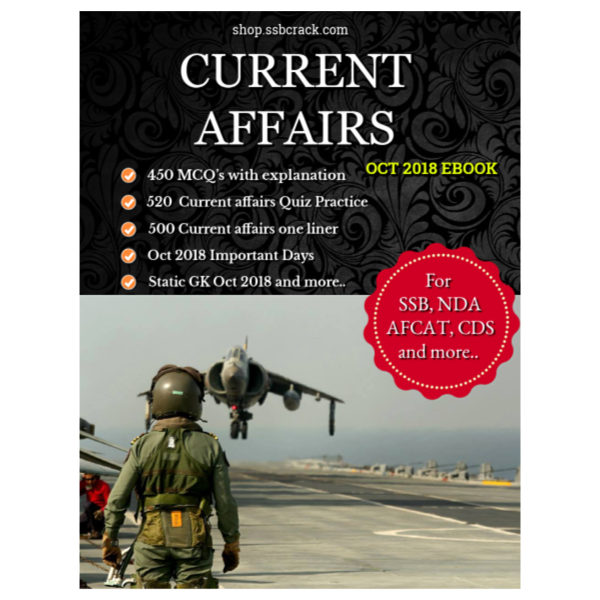 MAJOR NEWS AND EVENTS: OCTOBER 2018
01 October  2018
The World Habitat Day was observed across the world today.
The International Day of Older Persons is observed on October 1 each year to recognize the contributions of older persons and to examine issues that affect their lives. The theme for the 2018 celebration is "Celebrating Older Human Rights champions.
The 2018 Nobel Prize in Physiology or Medicine has been jointly awarded to James P. Allison and Tasuku Honjo, by the Nobel committee of the Karolinska Institute. The two immunologists — from the U.S. and Japan, respectively — were awarded the Prize "for their discovery of cancer therapy by inhibition of negative immune regulation."
02 October 2018
Nation paid tributes to Mahatma Gandhi at Rajghat on his 149th birth anniversary.
The Assam government celebrated the birth anniversary of Mahatma Gandhi by unfurling India's tallest National Flag from the average city elevation. The 9,600 sq ft flag stands on a 319.5 ft flag pole at Gandhi Mandap, a memorial for Mahatma Gandhi atop the Sarania Hill.
Three researchers Arthur Ashkin, Gerard Mourou and Donna Strickland shared the 2018 Nobel Physics Prize for inventions in the field of laser physics which have paved the way for advanced precision instruments used in corrective eye surgery and industry. Arthur Ashkin of the United States won one half of the prize, while Gerard Mourou of France and Donna Strickland of Canada shared the other half.
Air Marshal Anil Khosla PVSM AVSM VM took over as the Vice Chief of Air Staff, Born on 09 Apr 1959, Air Marshal an alumni of the National Defence Academy, was commissioned in Indian Air Force in Dec 1979. Air officer has over 4000 hours of accident free flying mainly on different variants of Jaguar, Mig-21 and Kiran aircraft.
03 October 2018
In a brief ceremony in Rashtrapati Bhavan, Justice Ranjan Gogoi sworn in as the 46th Chief Justice of India by President Ram Nath Kovind.
2018 Nobel Chemistry prize awarded to Frances Arnold, George Smith and Gregory Winter. One half of the Nobel Prize in Chemistry 2018 was awarded to Frances H. Arnold for "for the directed evolution of enzymes" and the other half jointly given to George P. Smith and Sir Gregory P. Winter.
India-born Gita Gopinath was appointed as the Chief Economist of the International Monetary Fund (IMF) on October 3, 2018, becoming the first woman to hold the position.
04 October 2018
Russian President Vladimir Putin has arrived in New Delhi on a two-day visit.
ICICI Bank Managing Director and Chief Executive Officer Chanda Kochhar resign from her post. Bank appoints Sandeep Bakhshi as the new Managing Director and Chief Executive Officer.
Reliance Industries' Chairman Mukesh Ambani has emerged as the richest Indian for the 11th consecutive year with a net worth of USD 47.3 billion, according to Forbes magazine.
Prithvi Shaw made history by becoming the youngest Indian to score a Test century on debut. Shaw, at 18 years and 329 days, reached the historic three-figure mark off just 99 balls against the Windies on Day 1 of the opening Test at the Saurashtra Cricket Association Stadium, Rajkot.
World Animal Day is celebrated at various parts of the world on 4th October to raise the status of animals in order to improve welfare standards around the globe. World Animal Day was originated by Heinrich Zimmermann. He organized the first World Animal Day on 24 March 1925 at the Sports Palace in Berlin, Germany.
The United Nations Conference on Trade and Development (UNCTAD) in its Trade and Development Report predicted the GDP growth of India for 2018 to be at 7%. Previously in 2017, it was 6.2%.
05 October 2018
India and Russia today concluded the contract signing for a major 5 billion dollar S-400 missile defence system in New Delhi in a meeting between Russian President Vladimir Putin and Prime Minister Narendra Modi.
The Nobel Peace Prize for 2018 has been awarded to Congolese gynaecologist Dr. Denis Mukwege and Yazidi human rights activist Nadia Murad.
Virat Kohli became the only Indian cricketer to score more than 1000 runs in Test cricket for the third consecutive year.
Reliance Industries' Chairman Mukesh Ambani has emerged as the richest Indian for the 11th consecutive year with a net worth of USD 47.3 billion, according to Forbes magazine. Ambani is also the year's biggest gainer, adding USD 9.3 billion to his wealth amid the continuing success of his Reliance Jio broadband telco service.
World Teachers' Day is celebrated globally on 5th October. The WTD 2018 will mark the 70th anniversary of the Universal Declaration of Human Rights (1948) that recognizes education as a key fundamental right and establishes an entitlement to free compulsory education, ensuring inclusive and equitable access for all children. The theme for this year's WTD is 'The right to education means the right to a qualified teacher'.
Fuel price is reduced by 2.5 rupees in the various Indian States as the Finance Minister Arun Jaitley has said that the centre will reduce the 1.5 rupee exercise duty on fuel. He has further announced that an additional one rupee amount will be absorbed by the oil marketing companies. Apart from this, he has urged the state governments to cut the VAT on fuel.
Prime Minister Modi met Russian President Putin for dinner yesterday over which they discussed strategic issues. Today, PM Modi and Putin will meet at the India-Russia bilateral summit. The two leaders are expected to sign a number of key pacts in space and energy sector. A five billion dollars deal to procure Moscow's advanced air defence system will be conducted today.
06 October 2018
The Election Commission announce the date for the State Assembly election of Chhattisgarh, Rajasthan, Madhya Pradesh, Mizoram and Telangana. The election will begin on November 12 and continue till December 7. The results will be announced on December 11.
India beat West Indies by an innings and 272 runs at the Saurashtra Cricket Association Stadium in Rajkot. The win was India's biggest-ever in the history of Test cricket and also India's 100th Test win at home.
After the delegation level talks between Prime Minister Modi and Russian President Putin, a MoU has been signed between Federal Space Agency of Russia 'ROSCOSMOS' and ISRO (Indian Space Research Organisation) for conducting joint activities in Human Spaceflight programme. The Russians have also offered a ride to Indian astronauts for a short visit to International Space Station (ISS) on board a Soyuz spacecraft for a training mission.
Pankaj Sharma who is currently serving as the joint secretary of Disarmament and International Security Division in the Ministry of External Affairs has been appointed as India's ambassador to UN Conference on Disarmament. He will be the permanent representative in Geneva and will replace Amandeep Gill.
Defence Minister Nirmala Sitharaman completed her 3-day visit to Astana, Kazakhstan. She visited Kazakhstan at the invitation of Minister of Defence of the Republic of Kazakhstan Mr. Nurlan Yermekbayev.
07 October  2018
The Indian Air Force (IAF) celebrated 86th Air Force Day.
The Royal Swedish Academy decided to award the Sveriges Riksbank Prize in Economic Sciences in Memory of Alfred Nobel 2018 to William D. Nordhaus and Paul M. Romer, for "integrating innovation and climate with economic growth."
India's Strategic Forces Command successfully test-fired its indigenously developed nuclear capable Prithvi-II missile during night time as part of a user trial by the Army from a test range in Odisha. The surface-to-surface missile, which has a strike range of 350 km, was launched from a mobile launcher from launch complex-3 of the Integrated Test Range (ITR) at Chandipur near Balasore.
08 October  2018
86th Indian Air Force (IAF) day was celebrated on 8 October 2018 to commemorate its official foundation day of the force. The celebration of day seeks to increase the awareness about the importance of IAF as an important part of the national security. It also seeks to pay rich tribute to untiring efforts and supreme sacrifice made by air force veterans.
India opened its medal account with a silver medal in the Youth Olympics taking place in Buenos Aires. Tushar Mane won a silver medal in men's 10-meter air rifle event in the Olympics. Another medal for the day was won by Tababi Devi Thangjam in the women's 44 kg category in Judo. India is participating in 13 sports in the Youth Olympics and is represented by 46 athletes. It is the largest contingent of India at the Youth Olympics.
Sanjay Verma appointed India's Ambassador to Spain. He is a 1990 batch Indian Foreign Service (IFS) officer. He is currently the Additional Secretary in the Ministry of External Affairs. He has been appointed as India's Ambassador to Spain.
President Ram Nath Kovind has reached Tajikistan on a three-day visit to Central Asian Country. He arrived in Dushanbe and was received by Deputy Prime Minister of Tajikistan Zokirzoda Mahmad Toir.
09 October 2018
World Post Day is celebrated each year on 9 October, the anniversary of the establishment of the Universal Postal Union in 1874 in the Swiss Capital, Bern. The theme selected for the 2018 competition is: 'Imagine you are a letter travelling through time. What message do you wish to convey to your readers?'
Weightlifter Jeremy Lalrinnunga wins India's maiden gold medal at the Youth Olympics, claiming the top honours in the men's 62 kg category.
A sudden fire erupted at the Steel Authority of India's Bhilai Steel Plant today morning at around 11 am. Nine people lost their lives and several suffered massive burning injuries in the incident. The incident took place at a gas pipeline in one of the plant's complexes during a regular maintenance check. The injured people are undergoing medical treatment in a hospital.
India won eleven medals including 3 gold in Asian Para Games taking place in Jakarta. Javelin thrower Sandeep Chaudhary clinched first gold for India in men's category. It turned out to be a fruitful day for India as middle distance runner Raju Rakshith won gold in women's 1500 category and swimmer Jadhav Suyash Narayan won the third gold in men's 50-meter butterfly on the second day.
The Central Board of Direct Taxes (CBDT) upon consideration of representations from various stakeholders has extended the due date of filing ITR to October 31, 2018. Earlier the date of filing Income Tax Returns was extended to October 15 which has now again extended.
10 October 2018
The World Mental Health Day was observed by the World Health Organisation (WHO).
Indian-American Nikki Haley resigned as the United States Ambassador to the United Nations.
The India Meteorological Department (IMD) issued a cyclone alert in Odisha on October 10 and 11. The eye of the Cyclone Titlihas been located at 530 km southeast of Gopalpur, Odisha and 480 km east-southeast of Kalingapatnam, Andhra Pradesh. Alerts have been issued for 14 districts – Ganjam, Puri, Boudh, Gajapati, Kandhamal Boudh, Jagatsinghpur, Cuttack, Kendrapara, Dhenkanal, Balasore, Bhadak and Nayagarh. Fishermen have also advised not to venture in to sea on these days. The National Emergency Response Centre (NERC) which is under the Home Ministry has cautioned the State Government.
4 people have died and 20 people have been injured as five coaches of the New Farraka Express have derailed today near Rae Bareli in Uttar Pradesh. A team of doctors and National Disaster Response Force has been sent from Lucknow to Harchandpur railway station to carry out rescue and relief operations.
Manu Bhaker won India's first ever Gold in shooting on Tuesday at the Asian Youth Games in Buenos Aires, Jakarta. The 16-year-old shot 236.5 in the women's 10m air pistol event and won a gold medal. Weightlifter Jeremy Lalrinnunga also becomes first gold medalist of India in Men's Weightlifting 62 kg event.
11 October 2018
Senior Advocate Tushar Mehta has been appointed as the new Solicitor General of India. He is currently serving as the Additional Solicitor General. The Solicitor General of India is the second-highest rank for a law officer of the government.
Replacing the Singaporean passport, the Japanese passport has been declared the most powerful passport across the world in 2018. According to 2018 Henley Passport Index, the people having Japanese passport can travel without a visa or can get an on-arrival visa across 190 countries.
China successfully launched two remote sensing satellites belonging to the Yaogan-32 family by a Long March-2C rocket with an upper stage on its top, from the Jiuquan Satellite Launch Center in China.
Defence Minister Nirmala Sitharaman has left for Paris on a three-day visit to France. Ms Sitharaman will hold wide-ranging talks with her French counterpart Florence Parly on ways to deepen strategic cooperation between the two countries and also deliberate on major regional and global issues of mutual interests.
12 October 2018
India elected to the United Nations' Human Rights Council ' for a period of three years beginning January 1, 2019.
After making a landfall near Gopalpur in Orissa, the Cyclone Titli is gradually weakening and is moving towards the north-east direction. 9 people have been reported dead till now because of the havoc caused by the cyclone. Prime Minister Modi has assured to provide all possible help to the victims in order to deal with the aftermath of the cyclone. Talks with Chief Ministers of Andhra Pradesh and Orissa have been initiated in this regard.
Defence Minister Nirmala Sitharaman on Thursday held talks with Defence Minister of France Florence Parly in order to deepen strategic and defence cooperation between the two countries. One-on-one meeting was conducted by her who was followed by delegation level talks. It covered bilateral, regional, and global issues of mutual interest of the nations. Sitharaman is on a three-day visit to France.
14 October 2018
India concluded its campaign at the 2018 Asian Para Games in Jakarta, Indonesia with 72 medals that included 15 gold, 24 silver and 33 bronze medals. India was placed ninth in the overall tally.
Chief Minister of Odisha Naveen Patnaik conducted an aerial survey of the districts that have been badly affected by the Cyclone Titli. The aerial survey was conducted over the three districts of Gajapati, Rayagada, and Ganjam. Later, he organized a meeting in which he announced relief for the people of these districts. The monetary relief would be paid for 15 days to the people affected by the cyclone and the flooding.
National Aeronautics and Space Administration (NASA)'s Voyager 2 probe is on its way outside the influence of the Sun and it could be close to interstellar space. Voyager 2 was launched. It has crossed the Kuiper Belt, an interstellar space beyond Pluto.
15 October 2018
International Day of Rural Women was celebrated all over the world. In 2007, the United Nations General Assembly, declared October 15 as International Day of Rural Women. It was first observed in 2008. The theme for International Day of Rural Women 2018 is 'Sustainable infrastructure, services and social protection for gender equality and the empowerment of rural women and girls'.
Co-founder of Microsoft Paul Gardner Allen, an investor, entrepreneur and philanthropist, passed away at the age of 65.
The Election Commission has introduced C-vigil app as a pilot project in order to help the citizens to keep a check over the prevalent malpractices. It is an internet based mobile app which is operational for the first time as a pilot project.
Heavy rains pounded Orissa over the last three days which were followed by a cyclone. 24 people have been killed so far because of the rains, cyclone, and landslides occurring in the state. Several measures are being taken in order to restore the connectivity which has been affected because of the calamity. As per media reports, the work is going on in full swing and things will be brought back to normal soon.
Bihar Deputy Chief Minister Sushil Modi released a book named 'Lalu-Leela', at an event in Patna. The book has nearly 200 pages. It is about alleged illegal dealings of Rashtriya Janata Dal (RJD) President Lalu Prasad Yadav and his family members. This is Sushil Modi's second book. His first book 'Beech Samar Mein' (In the Middle of War) was released two years back.
16 October 2018
Irish Author Anna Burns won the Britain's renowned Man Booker Prize 2018 for her third novel 'Milkman'.
Government announces Rs 100 crore award for states under Saubhagya Scheme.
Both men and women hockey teams of India weren't able to win a gold medal for the country in the Youth Olympic Games taking place in Buenos Aires, Argentina. Both men and women's team won silver medals in the Hockey 5s competition. The men team lost to Malaysia by 2-4 while the women's team was defeated by Argentina by 1-3.
17 October 2018
The United Nations' (UN) International Day for the Eradication of Poverty is observed on October 17 each year since 1993. It promotes people's awareness of the need to eradicate poverty and destitution worldwide, particularly in developing countries.
Paradhan Mantri Jan Arogya Yojana to create 10 lakh jobs, says Indu Bhusan.
The Uttar Pradesh cabinet has adopted a proposal of renaming the historical city of Allahabad as Prayagraj. The move was opposed by the opposition parties of the state. Former Chief Minister Akhilesh Yadav has also criticised the decision. As per sources, Allahabad University and Allahabad High Court will be renamed soon. The move has been considered as a masterstroke of BJP just before the Kumbh Mela and also the 2019 General Elections.
HMD Global, which designs and sells phones under the Nokia brand, appointed actress Alia Bhatt as the face of Nokia phones' in India. As part of the partnership, a print campaign featuring Alia Bhatt has already started to mark the festive season.
18 October 2018
The International Cricket Council (ICC) launched the global Women's T20 Team ranking on Thursday. According to the ranking, India is placed fifth while Australia which is the three-time champion has topped the list out of 46 teams. As per ICC, the new rankings will help the team improve their game and will also determine where they stand in the shortest format of the game.
MJ Akbar, who faces multiple charges of sexual harassment, resigned as Union minister of state for external affairs. Akbar is facing allegations of sexual harassment and had filed a criminal defamation case against journalist Priya Ramani, who was the first to report against him.
An ATM for deposit and withdrawal of money for cryptocurrencies has been installed in Bengaluru's Kemp Fort Mall by virtual currency exchange Unocoin. Users can deposit money to buy currencies like Bitcoin and Ethereum using an OTP received on their registered numbers. In order to withdraw money, a request has to be first made on the Unocoin website.
N D Tiwari, former Chief Minister of Uttar Pradesh and Uttarakhand, passed away after a prolonged stint of hospitalisation in New Delhi. Mr.Tiwari began his career with the erstwhile Praja Socialist Party (PSP) to then serve his entire career in the Congress was 93 at the time of his death.
19 October 2018
At least 50 people were killed in a major train accident that occurred near Jora Phatak in Amritsar. The train ran over hundreds of people who had gathered on the railway track to watch the effigy of Ravan being burnt. According to media reports, the effigy of Ravan had been erected in close proximity to the railways track and due to the noise of firecrackers people could not hear the approaching train and move out of the way. The train was heading from Jalandhar to Amritsar. It has been estimated that around 700 people were present at the site where the accident took place. The injured have been hospitalized.
The first ever cruise of India "Angriya" is all set to sail from Mumbai to Goa on October 20. The cost of the ticket for the cruise is Rs. 4300 which can go up to Rs. 12000. The domestic cruise is a luxurious 7-deck, 131-meter passenger ship which has two restaurants named Ancora and Coral Reef. Made in Japan, this cruise also has six bars and amenities like spa, infinity pool, open deck and also a lounge.
20 October 2018
World Osteoporosis Day is observed every year on October 20. It is organized by the International Osteoporosis Foundation (IOF). This day creates awareness about the prevention, diagnosis and treatment of osteoporosis and metabolic bone disease. Osteoporosis is a disease in which bones become weak and brittle and increases the risk of a broken bone.
Mumbai defeated Delhi by four wickets to win their third Vijay Hazare Trophy title at M Chinnaswamy stadium in Bengaluru.
The death toll in yesterday's Punjab train accident rose to 61. According to media reports, 74 people have been injured in the accident. Following the accident, train services between Jalandhar and Amritsar were suspended.
Defence Minister Nirmala Sitharaman held a series of bilateral talks with her US and ASEAN counterparts on Friday on the sidelines of ASEAN Defence Ministers meet which took place in Singapore. Sitharaman also met her Australian counterpart Christopher Pyne, Malaysian counterpart Mohamad Bin Sabu and Defence Ministers from several countries including China, Japan, New Zealand, Korea, and Russia. It was the 12th ASEAN Defence Ministers meeting which was being hosted in Singapore.
21 October 2018
The Prime Minister hoisted the national flag at Red Fort to mark the 75th anniversary of proclamation of the Azad Hind government by Subhas Chandra Bose. PM Modi also inaugurates the National Police Museum and Memorial in New Delhi.
Saina Nehwal settles for silver after defeated by Chinese Taipei's Tai Tzu Ying 13-21, 21-13 and 6-21 in the Denmark Open final.
Four Himalayan peaks near Gangotri glacier of Uttarkashi district have been named after former Prime Minister Atal Bihari Vajpayee. Located near Sudarshan and Saifi peaks in Raktvan valley, the peaks have been named Atal-1, 2, 3 and 4.
22 October 2018
As per the forecast of Indian Meteorological Department (IDA), the air quality index of the capital city has dipped to a four -year low. The Air Quality Index (AQI) has dipped to 326 which comes under "very poor" category. As per the Central Pollution Control Board (CPCB) reading above 400 indicates severe levels of pollution. The air quality is expected to remain the same for the next few days.
India won the first match of the five-match One Day International Cricket Series against West Indies taking place in Guwahati. India won by 8 wickets chasing a target of 323 runs. India made 326 runs in 42.1 overs losing two wickets in all. Rohit Sharma delivered an outstanding performance by making 152 runs off 117 balls and remained not out. Captain Virat Kohli also performed really well scoring 140 runs off 107 balls and was declared Man of the Match.
23 October 2018
The Supreme Court allowed the use of safer firecrackers from 8 pm to 10 pm on Diwali next month. Firecrackers will be allowed between 11:55 pm and 12:30 am on Christmas and New Year.
Bajrang Punia wins silver in 65 kg category in World Wrestling Championship.
Environmental Ministry launches Swasth Diwali campaign.
24 October 2018
Prime Minister Narendra Modi has been conferred with the Seoul Peace Prize for 2018 for his contribution to international cooperation and fostering global economic growth.
M Nageshwar Rao is appointed as the new interim director of the Central Bureau of Investigation (CBI).
Team India skipper Virat Kohli became the fastest batsman in the world to score 10,000 runs in One-Day Internationals (ODIs). Kohli achieve this record on his 213th ODI match.
25 October 2018
Indian Captain Virat Kohli becomes the fastest batsman to reach 10,000 ODI runs on Wednesday. Kohli broke Tendulkar's record by achieving the milestone in 205 innings surpassing Sachin who did it in 259 innings. Kohli has become the fifth Indian to reach this mark in the ODIs. Apart from him, players including Sachin Tendulkar, Rahul Dravid, MS Dhoni, and Sourav Ganguly have scored over 10,000 runs.
Anna Roy, the Niti Aayog Advisor while talking to All India Radio News said that the Government of India has worked hard and recognised certain fields including Health, Agriculture, Mobility, Urbanisation, and Education for the use of Artificial Intelligence. Further highlighting the importance of Artificial Intelligence Roy said that Artificial Intelligence can help the farmers to get the latest information.
27 October 2018
Prime Minister Narendra Modi left for Japan to attend the annual summit with his counterpart Shinzo Abe.
Sri Lanka President Maithripala Sirisena suspended parliament, deepening political turmoil after he sacked the country's Prime Minister Ranil Wickremesinghe.
The Central Government has appointed Indian Revenue Service (IRS) officer Sanjay Kumar Mishra as interim director of the Enforcement Directorate (ED) for three months.
Indian Captain Virat Kohli becomes the first Indian batsman to score three consecutive centuries in ODI. He scores three consecutive hundreds against West Indies team in the ongoing ODI series.
28 October 2018
The 11 Base Repair Depots in Ojhar, Maharashtra, has handed over the first fully overhauled Sukhoi 30 MKI aircraft to the Indian Air Force. The aircraft has been manufactured by the Hindustan Aeronautics Limited (HAL) under license from Russia. In a ceremony, the Air Officer Commanding in Chief of the Maintenance Comand headquartered in Nashik handed over the aircraft to the operational squadron of the IAF.
Former Prime Minister Manmohan Singh attacked Narendra Modi by saying that the PM's rule has not been good for India. Criticizing the government of Narendra Modi, Manmohan Singh stated that the PM not only failed the electorate of the country but also led a government that was mostly silent on incidents such as cow vigilantism, communal violence and mob lynching. The former Prime Minister made the statement at the launch of the new book of Shashi Tharoor.
West Indies all-rounder Dwayne Bravo has announced his retirement from international cricket.
29 October 2018
With news coming in from several government and diplomatic sources, it is now clear that the US President, Donald Trump will not be attending the Republic Day celebrations of India. It is being said that the White House has already conveyed its regrets to the Indian government.
Trump's "crowded calendar" is said to be the reason for not accepting the invitation, with the State of the Union (SOTU) address in the US scheduled to happen in the later half of January.
The 11 Base Repair Depot (BRD) of the Indian Air Force in Maharashtra Nashik district handed over its first indigenously overhauled Sukhoi Su-30MKI fighter jet to the IAF at a ceremony held at the Air Force Station Ojhar. It is a twin-jet multi-role air superiority aircraft developed by Russia's Sukhoi and built under licence by India's Hindustan Aeronautics Ltd (HAL).
A three-judge bench of the Supreme Court on Monday 29 Oct 2018 posted the Ayodhya dispute case for hearing in the first week of January before appropriate bench for fixing a schedule for hearing.
Whether actual hearing will be in January, February or March will be for appropriate bench to decide, a bench comprising Chief Justice Ranjan Gogoi and Justices S K Kaul and K M Joseph said.
30 October 2018
On 29 Oct 2018 , India and Japan signed a record deal of $75 billion, aimed at stabilising the foreign exchange and capital markets, especially after the continuous slide down in Rupee recently.The last swap agreement between the two nations was in 2013, with the latest one being 50% higher.
Supreme Court bans old vehicles from NCR roads; calls the situation "very critical". The apex court banned all 15-year-old petrol, 10-year-old diesel vehicles from plying in the NCR. The transport department has been instructed to impound any such vehicles, if found on the road.
31 October 2018
A night trial of India's indigenously developed nuclear-capable Agni-1 ballistic missile with a strike range of 700 km was successfully conduc ted on 30 Oct 2018 from a test range off Odisha coast as part of a user trial by the Army, defence sources said.
On the occasion of birth anniversary of Sardar Vallabhbhai Patel, PM Modi inaugurated the world's tallest statue – Statue of Unity to the nation.
IMPORTANT – Download eBooks for SSB Interview Preparations
Free eBooks